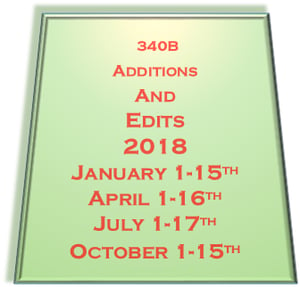 It is that time again! The first two weeks of a new calendar quarter. You may have a few new child sites and contract pharmacies to add to your OPA website. Note that you can only add these during the first two weeks of each Calendar Quarter (Jan 1-15, April 1-15, July 1-15, and October 1-15). These new additions will "go-live" the first day of the following quarter. For July of 2018, HRSA added two additional days, so the open period is from July 1st through July 17th.
Before you begin, make sure you know the requirements for a 340B approved "Child Site". Here are the HRSA rules for child sites:
The outpatient facility is listed as a reimbursable facility on a 340B hospital covered entity's most recently filed Medicare cost report. You can click on this [LINK] to see the specific wording.
An off-site outpatient facility meeting one of these criteria must register and be listed on 340B OPAIS before it can purchase or use 340B drugs for eligible patients.
For hospitals, all clinics located off-site of the parent hospital, regardless of whether those clinics are in the same building, must register as child sites of the parent 340B-eligible hospital if the covered entity purchases and/or provides 340B drugs to patients of those facilities.
NOTE: If the off-site outpatient facility is a hospital, all clinics/departments within that off-site location that plan to purchase and-or provide 340B drugs to its patient must register as a child site. Note this carefully: we've seen a few locations cited by not having all child site OP departments listed as child sites. (call your CPS 340B consultant for clarifications)
We get many questions about 'how' to load a child site or a contract pharmacy. It is the type of function that is intimidating the first time you try it, and easy thereafter.
The inset just above and to the right is advice from Courtney D., an experienced 340B coordinator from one of our CPS managed facilities. As you can see from her comments, being prepared before you begin is essential. Look below for examples of spreadsheet columns for this purpose:
Both Costs and Revenues are expected
It is important to know the rules before you attempt to add new child sites or contract pharmacies. Outside of the rules noted above, the child site must have revenues in Worksheet C and expenses in Worksheet A. If you have one but not the other, HRSA will not approve the child site.
Mandatory Medicare Cost Report Listing
This may sound obvious, but if the potential new child site is not on the most current submitted Medicare Cost Report (MCR) then HRSA will refuse to add the site. This last quarter, an authorizing official for a facility wanted to add new child sites that were not on their most recent MCR. It is easy to understand that a facility wants to gain 340B discounts for a new outpatient clinic, but the HRSA requirement is set in stone.
Who needs to be involved?
The locations that are most proficient in adding child sites and contract pharmacies know to have the following staff available during their HRSA/OPA website load. (Note that you have to complete each child site in the same log-on)
340B Coordinator (of course)
Primary Contact
Authorizing Official
A finance team member who is familiar with the MCR, Trial Balance and your crosswalk.
Address?
Although it seems straightforward, the actual address of a child site or contract pharmacy can create an issue. HRSA uses the address on file with the DEA for contract pharmacies. If possible, ask the contract pharmacy to email a copy of their DEA permit to you to be certain you have the same address as the DEA.
OK: So I loaded everything, but HRSA denied my addition?
Your Medicare Cost Report (MCR) is submitted to CMS, and in turn this is shared with HRSA. They will email or call you if something is not right in your submission. You'll have a chance to resolve the issue and continue with submission of the new site. If you've collected and used the information outlined above, there should be no problems.
And in closing. . .
As with any new venture, quite often the first attempt is accompanied by some trepidation. However, we consistently hear from our teams that the process was easier than they thought it was going to be.
So collect your data elements, have your necessary team members there with you, or just a quick phone call away, and give it a shot!
And, as always, call your friendly neighborhood CPS 340B consultant for any questions or if you need any help!
You can view our other blog posts here.