340B BLOG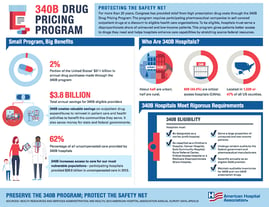 Current Hot Topics
The next 340B Drug Pricing Program registration period is April 1st-April 17th. The effective start date for registrations approved by HRSA during this time is July 1, 2017. If you have any new child sites, etc., now is the time to add them to the OPA website! Contact your 340B consultant if you have questions.
Q and A This week that might benefit everyone
EMS sales and 340B drugs
The 340B statutes are clear on this, noting that covered entities shall not sell or otherwise transfer 340B drugs to non-patients. Providing 340B drugs to another organization for any purpose is diversion and would violate the statute. The prohibition of diversion applies to all 340B drugs, not just the drugs for which the entity charges a fee. In addition, EMS services are not registered as an eligible child site for an organization, and as such their patients would not qualify as eligible patients.
There are two ways to remain compliant with 340B and sell/provide drugs to an EMS service.
Virtual Inventory: The drugs on the shelf are not identified as 340B, GPO or WAC. Any drug you provide to an external agency would not go through your splitter and accumulate, so replenishment would be WAC. (GPO if you are CAH, RRC, etc.) This is not very cost effective, but it is compliant.
Physical Inventory (may be specific to EMS, and not all areas): The second method is to have a distinct and separate wholesaler account and a separate physical inventory specifically for EMS. This could use GPO pricing, but you need to be certain to maintain careful, complete and accurate records to demonstrate that all sales and purchases on this account did in fact go just to the EMS.
It's easy to get into 'murky waters' on this. Be sure this is covered in your policy and procedure manual, and go over your process with your CPS 340B consultant.
To Carve-In or to Carve-Out? What was the question?
OK, I'm not Shakespeare, but with vague reports that Medicaid may soon require states to bill Medicaid to 340B entities at a 340B ceiling price plus a dispensing fee, there is a lot of confusion about whether or not to Carve-In or Carve-out. Unless your state has set a specific date for moving to a 340B ceiling cost plus acquisition fee bill, it may be in your best fiscal interest to Carve-In. Check with your 340B Consultant to learn more.
Carving in means you can use 340B discounts on Medicaid patients treated in your mixed use areas. You still cannot use Medicaid in the Contract Pharmacy arena (there is a provision for this, but it is not easy to gain approval).
Carving-In places you at risk for duplicate discounts. To ensure this does not happen, be absolutely positive that ALL NPI numbers used to bill Medicaid are registered in the OPA database and in the 'Medicaid Exclusion File" (MEF). HRSA is quick to point out that the CE is responsible for maintaining accuracy in the MEF. Note that as of now no states' managed Medicaid mandates a specific billing formula. That may change in the future. Check with your 340B Consultant for advise!
Medicaid Billing Number and NPI Number(s)
The HRSA website notes that a CE must have their Medicaid Billing Number or their NPI number registered in the MEF. As such, some CE's just have their Medicaid Billing Number registered and not their NPI Number(s). In recent audits, these CE's were cited for potential duplicate discounts and had to submit Corrective Action Plans (CAPs) to demonstrate no potential duplicate discount.
Be sure both your Medicaid Billing Number and your NPI Number(s) are registered on the MEF. I mentioned multiple NPI's as quite a few CE's use a different NPI billing number for different payers or states, and each of these numbers should be registered.
In recent HRSA integrity audits, the auditor pulled Medicaid billing information to validate the NPI on file with OPA was the NPI used to bill Medicaid.
So double check this with your Billing Office to be sure you are compliant!
Comments
Please send your comments, suggestions or questions in to your CPS 340B consultant. Any opinion expressed here was the opinion of the author, and not necessarily a formal opinion of CPS.