Today's blog is about the potential use of Private Label Drugs. Before we get into the 'meat' of the article, I need to mention for our Curmudgeon coalition that I will explain at the end how use of Private Label drugs for Outpatients in a DSH, CAN or PED hospital relates to Aesop's fable "The Doe and the Lion".
Here we go:
Who
This applies to Disproportionate Share Hospitals (DSH), Children's Hospitals (PED) and Free Standing Cancer Hospitals (CAN), who are all subject to the GPO Prohibition.
In short, the statute states these three types of facilities can use GPO for inpatients and non-covered outpatient drugs, but otherwise must use 340B or WAC exclusively for outpatients. Click on this link to see the entire text of the February 7, 2013 Program Notice.
Note that HRSA categorizes Wholesaler Private Label Drugs as GPO, and as such, exclude them from any outpatient use. In fact, HRSA prohibits loading Private Label drugs in the 340B accounts as well as the WAC account (Link). As such, except, as we will note below, Private label products are exclusively inpatient for 340B compliance purposes. This [LINK] will take you to the 'Pharmacy Flash' from Apexus on this topic.
Here is the HRSA Statement from the Apexus Advanced Course [LINK}
The Hospital should address the immediate patient care situation regardless of the purchasing source.
If an alternative product (that may have no accumulation in the split billing system) could be purchased, even if at WAC cost, then the alternative items should be purchased rather than the private label product.
If the GPO private label inventory is the ONLY product available, the hospital may choose to place an order, using its distributor's order number for the actual GPO private label product in the wholesaler's ordering system.
Controversy
HRSA defines a 340B drug as one defined in section 1927(c) of the Social Security Act. This does not include drugs where the manufacturer does not have a rebate agreement in place with CMS, such as Ofirmev or Exparel. HRSA does not consider these drugs 340B eligible and they may be purchased from any account. Many private label drugs do not have a rebate agreement in place with CMS, but HRSA specifically states Private Label drugs may only be used to avoid patient harm as we describe below. One could argue the point that a 'Non-drug', as HRSA sees it, can be used however you like. That is likely to prove risky since HRSA specifically addresses Private Labels.
Why
A few Pharmacy Director's that I know (myself included back in the day) advised their buyers to go ahead and buy a Private Label drug to fill a shortage, and did not worry about documenting this for 340B purposes. This can result in an adverse finding in a HRSA audit unless specific steps are taken as we describe below.
Managing drug shortages and remaining compliant with 340B can be daunting. As of today, ASHP shows 147 drugs in short supply. This means buyers scramble to find any product, and some cases, the only product may be a Wholesaler's Private Label.
HRSA allows use of Private Label Drugs when there are no other options available, and not using the Private Label drug could result in patient harm.
The key elements for compliance in this area include:
Well Documented in Policy and Procedures;
Maintenance of Documentation, and
Reported to HRSA
If you say P&P one more time. . .
The Curmudgeon Coalition let me know clearly, that if I said 'Policy and Procedure' just one more time, well, I cannot repeat their comments here. However, I will just use the abbreviation P&P instead of spelling it out.
Here is an example of what your P&P should say:
[Entity] realizes that HRSA considers 'Private Label' drugs as GPO, and as such, prohibit using them for outpatient use. However, during extreme market shortages, the only product available may be the GPO private-labeled product. During these extreme circumstances, and as a measure of last resort to ensure continuity of care to patients, [Entity] will purchase these private-label products on our GPO accounts.
To comply with HRSA Statues and regulations, [Entity] will, on the form show below labeled "Private Label Emergency Purchases";
Document the attempts to acquire other non-GPO drugs;
Document all details of the purchase;
Report said purchase to HRSA via email to Apexus using the form as an attachment.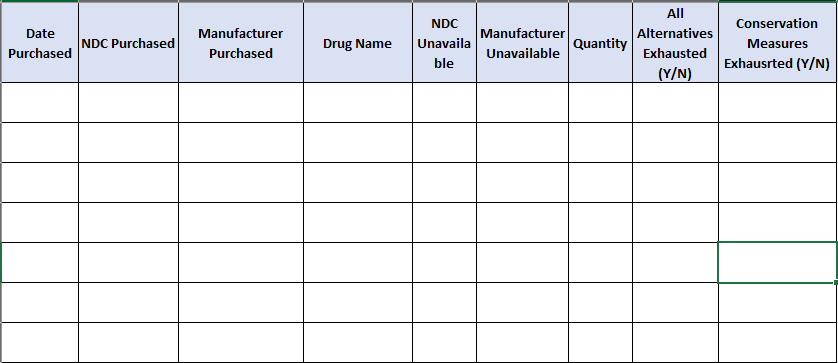 Maintenance of Documentation
Retain all records pertinent to any 340B Private Label purchases for no less than the limit set by your P&P. We recommend five years. Keep the records where they may be readily retrieved in the event of a HRSA integrity audit.
Do I really have to Report to HRSA?
The first question heard when someone reads this rule, is 'Do we really have to report to HRSA?'. The short answer is emphatically 'Yes', as that is the way the rule is written. However, facilities that we know have consistently reporting this issue to HRSA are sometimes told to stop reporting it. Our recommendation is that you continue to report any use of private label drugs until Apexus or a HRSA rep tells you otherwise. Then document that and save your documentation. . .
Training
Addressing this topic in your P&P is great, but we see a fair number of issues anytime an experienced buyer moves on to another career opportunity, and a new buyer steps in. Be sure that your new buyer(s) are trained in not only 340B, but in how 340B is managed in your specific facility.
And In Closing
OK: I promised to tie today's blog into Aesop's fable the Doe and the Lion.
I'll admit this is a very loose link. But there is a mite of similarity between buying Private Label drugs for outpatient use without proper documentation, as you avoid one issue for another. Here's the fable of
The Doe and the Lion
A DOE hard pressed by hunters sought refuge in a cave belonging to a Lion. the Lion concealed himself on seeing her approach, but when she was safe within the cave, sprang upon her and tore her to pieces. 'Woe is me,' exclaimed the Doe, 'who have escaped from man, only to throw myself into the mouth of a wild beast?'
In avoiding one evil, care must be taken not to fall into another.
As always, contact your friendly neighborhood CPS Compliance and Regulatory consultant for more information!